As the temperature cools, the Olympic spirit heats up. The anticipation for the Sochi Winter Olympics is upon us and Prospeakers is your source for all things Olympic. From legendary broadcasters, to record setting athletes… a little spirit is just what your next event needs.
To book an Olympic Spirit speaker for for your next event, give us a call at 416-420-4525 or be in touch via our site.
Here are a few options:
Scott Russell  is a  Gemini-Award winning broadcaster and acclaimed author, originally from Oshawa.  He holds a Masters of Arts degree from the University of Western Ontario, and  is known across the nation for his coverage of amateur sports.
Scott's CBC  Sports broadcasting extensive experience includes the nationally-loved Hockey Night in Canada. CBC host of the  2008 Beijing Olympics and Late Night host of the 2004 Games, he has been part  of the coverage for eleven Olympic Games as well as covering  triathlon, gymnastics, rugby, cross-country skiing and biathlon at several Pan  Am and Commonwealth Games. He hosted CBC's coverage of the 2010 FIFA World Cup  and the 2011 FIFA Women's World Cup, and has also periodically worked on CFL and curling telecasts  as a sideline reporter.
Most recently,  Scott was an integral part of the CBC's Olympic coverage for the summer games  in London 2012.He brings extensive experience, passion and knowledge to his  role as the host of CBC's Sports Weekend  on CBC.
Off-air, Scott teaches a course in Canadian  Sport History at the School of Sports Journalism at Centennial College in  Toronto and sits on the Education and Outreach Commission of the Canadian  Olympic Committee. He is an avid cottager and runner, qualifying for and then completing the 109th Boston Marathon in 2005. His three books are The Rink: Stories from Hockey's Hometowns (co-authored with Chris Cuthbert), Icetime:  The Unsung Heroes of Hockey, and Open  House: Canada and the Magic of Curling.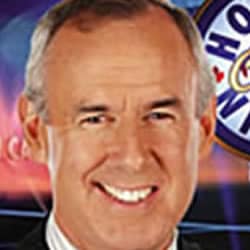 Ron MacLean is best known as the straight man on Coach's Corner, the listener, and some might argue the voice of reason that saves Don Cherry from getting a puck in the head.
MacLean's broadcasting career began in 1978 when he took a part-time position at CKRD Radio in Red Deer, Alberta. In 1984, a producer saw MacLean doing an ad-lib weather forecast and hired him to host the Calgary Flames telecasts on CFAC, an independent TV station in Calgary. MacLean then became the sports anchor on the local evening news.
After joining the CBC network in 1986, MacLean hosted the Toronto Maple Leafs' telecasts on Hockey Night in Canada before becoming the full-time national host in 1987. The Gemini Award-winning sportscaster has expanded his professional duties to include hosting CBC's coverage of the Summer and Winter Olympics, Calgary Stampede, Commonwealth Games and World Track & Field Championships. In his spare time, he is a Level 5 referee for the Canadian Amateur Hockey Association.
In January 2002, MacLean hosted the third annual CBC Hockey Day in Canada extravaganza, from Windsor, Nova Scotia, that took viewers across the country for a glimpse at hockey's impact and its prominent place in Canadian communities.  As a host, master of ceremonies or featured speaker, Ron's quick wit, thoughtful insights, and humorous, engaging style has entertained audiences from coast to coast.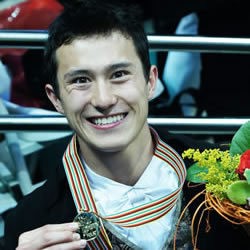 Patrick Chan has been figure skating since the age of five. Since then, he has won five  consecutive national titles from 2008 to 2012. In 2011, he became the reigning  World Champion (Moscow) establishing World Records in all 3 categories (short  program, long program, and combined score), and in 2012 he re-established  himself as the best male figure skater in the world, with a second World  Championship gold.
He is the 2010-2011 Grand Prix  Final champion, the 2009 & 2012 Four Continents Champion, In 2010, Patrick  placed 5th in the Vancouver Winter Olympics.
Chan is fluent in English, French,  and Cantonese, and is learning Mandarin. He graduated from École secondaire  Étienne-Brûlé, a French language school in North York. After Chan became  national champion, the school created an annual sporting award in his honor.  Chan was most proficient in physics in high school and considered taking mechanical  engineering at university. Chan plans to enroll in university in September 2011  and is considering a business degree.
Patrick has won numerous off-ice  awards for his accomplishments. In January 2008, the Chinese Cultural Centre of  Greater Toronto (Youth Chapter) conferred Chan with the 2007 Chinese Canadian  Youth of the Year award. In May 2008, Chan was named Asian of the Year in arts  and sports by Asia Network magazine.
Patrick was recognized as the 2009  Ontario Male Athlete of the Year. In January 2009, the Globe and Mail named Chan as one of the most prominent sports personalities in their annual  Power List in Canadian sports. In 2011, he received the Lou Marsh Award as  Canada's top athlete. Known for his vibrant and  infectious personality, Chan is an inspiring addition to any event.