Inspiration and Aspiration – the Story of Jana Webb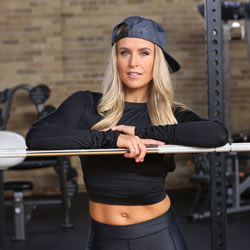 Meet Innovator. Creator. Entrepreneur. Business Woman. Teacher. Mother. TEDx Presenter. Published Fitness Writer. TV Host.  Ambassador. Media Sensationalist – Jana Webb.
As with all powerful women, many wear multiple hats but for Jana Webb that is an understatement.  This is Jana Webb; a lifelong athlete, industry disruptor, and overall loveable woman has made it her mission to share her inimitable perspective of fitness and health with the world.
Upon meeting Jana, you'll find her energy and positive attitude contagious.   What may not be immediately obvious is the courage and long road that it's taken to get her to where she is today.  The creation of Jana Webb's brainchild JOGA was a fortuitous occurrence born out of a seemingly unfortunate event.
Before this chapter of her life, Jana was a successful Television host and Advertising Executive, but it wasn't until a life-threatening car accident that inflicted some physical ailments that her acting coach suggested she try Yoga breathing techniques as a rehabilitative practice.  Low and behold, a Yogi was born, but not the traditional kind; having always been somewhat of a 'jock' Jana was able to morph her Ishta Yoga training from Japan in such a fashion that complimented her competitive athletic nature.
In 2010, JOGA: a unique blend of postures and breathing techniques was born and has been revolutionarily helping people strengthen their mind and bodies ever since. In less than eight years Jana has developed JOGA to allow other health professionals, yoga instructors, physiotherapists, athletic therapists and strength coaches to become JOGA certified – JOGA WORLD now has over 350 JOGA coaches around the globe!
ProSpeakers is so proud to have Jana as part of our speaker and influencer team.  While her business flourishing she continues to work through some of the long-term effects of the accident, including concussion related injuries.    A model for inspiration and aspiration, let us introduce you to Jana and have her share her secrets of success and perseverance with you and your team!
Please contact us directly for details on how to get Jana involved with your next event.