Dov Baron, One of the Top 100 Motivational Speakers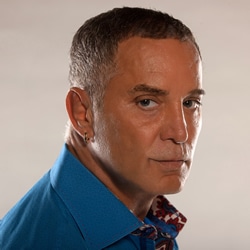 Number 18 on the Global Leadership Gurus list and ranked as one Top 100 Motivational Speakers to Hire for the 2nd year in a row!
Meet Dov Baron, an expert on authentic leadership and a self-described "corporate cultural momentum strategist". He is the author of Fiercely Loyal: How High Performing Companies Develop and Retain Top Talent.
In June 1990 while free rock climbing, Dov Baron fell approximately 120 feet and landed on his face. The impact shattered most of the bone structure of his face, disintegrating some of his upper jaw and fracturing his lower jaw in four places. After nine reconstructive surgeries, no external evidence remains of the damage however, this experience was life changing.
Before the fall, Dov had spent years building a reputation as a dynamic speaker and teacher in the field of personal and professional development but it wasn't until sometime after 'the fall' he began to see the beauty and elegance of what had really happened… The return to his own CORE, what he calls his 'Authentic Self'.
Today, Dov is the bestselling author of several books including his latest, Fiercely Loyal.
He was also the host and executive producer of the increasingly popular radio show: "Full Monty Leadership Show," where authentic leaders let it all hang out about loyalty, culture and growth. The show broadcasts out of Seattle, Chicago, Colorado and globally via the internet.
Dov has interviewed and worked with leaders featured on: Oprah, Ellen, CNN, Fox, MSNBC, CBS, Huffington Post, Larry King, New York Times, Washington Post, Forbes, the Wall Street Journal and many other top rated media. He also has a massive social media platform with over 200,000 followers via Face book, Twitter, Linkedin, Podomatic, iTunes etc.
In addition to being an author and a radio host, Dov is also the leading expert on Developing Authentic Leadership and he is the world's only Corporate Cultural Momentum Strategist, serving top performance individuals, corporations and organizations to generate both exponential growth and fierce loyalty.
Dov has been sharing his wisdom and expertise privately and on international stages with professional leaders for more than 30 years.
https://jamieturner.live/top-100-motivational-speakers/
https://www.inc.com/kevin-kruse/the-top-100-leadership-speakers-for-2018.html