Virtual events are all the rage in the age of COVID-19. Most in-person speaking events have gravitated online. You may already be familiar with speakers' bureaus. Speakers bureaus are an events/entertainment organization that helps connect keynote speakers and entertainers with organizations for events that take place at conferences, companies, and workshops. However, you may not be familiar with "virtual" speakers' bureaus.
The main difference between a virtual speakers' bureau and a regular speakers bureau is that virtual speakers' bureaus specialize in events that take place online. Some virtual speaker bureaus like ProSpeakers.com specialize in finding virtual motivational speakers, virtual keynote speakers, and virtual business speakers to appear at online events for universities, conferences, and Fortune 1000 companies.
Virtual Services
As an in-person and virtual speakers bureau, ProSpeakers.com  provides the same services you love in a regular speakers bureau. The team at ProSpeakers.com makes sure you have a seamless experience from booking to event day. As a full-service virtual Keynote speakers bureau, you get knowledgeable assistance selecting the right virtual speakers for your needs, sales service, contract support, financial services, and event planning coordination. 
Virtual Digital Events
Virtual speaking events can take many forms. Since these events are online, they can be large virtual conferences with many keynote speakers and thousands of attendees presented live, Zoom meetings with a single speaker intended for a small group, or a pre-recorded webinar meant to be accessed at any time.
Virtual entertainment and speaking events also differ in several ways from more traditional online events in terms of duration, format, and interactivity. For example, virtual speaking events tend to have a shorter presentation of material (between 20-40 minutes) with a longer Q&A at the end. They also tend to be more interactive, allowing attendees to chat with each other and also to send questions directly to the presenters.
Virtual Keynote Speakers
Virtual keynote speakers are also different than your typical "in-person" keynote speaker. A typical in-person speaker tends not to be as interactive. Their talks and presentations are often very similar from event to event.
Virtual keynote speakers, on the other hand, tend to have moderators and the speakers modify their presentation for the needs of each audience. You will find these online speakers have more engaging audio-visual materials prepared (music, graphics, polls, etc) and are ready to interact with the audience and even change the focus of the presentation (on the fly) based on audience interest.
ProSpeakers have vetted all our speakers to ensure all the speakers highlighted under Virtual Speakers have the skill set to deliver a high-quality Virtual Keynote Presentation. These speakers are highlighted with the Virtual Keynote Speaker Icon: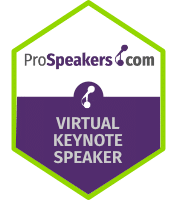 To learn more about our virtual Keynote Speakers Bureau or to work with an experienced virtual speakers bureau and have a great virtual event, contact ProSpeakers.com Speakers Bureau today.